Expand the boundaries of design, create extraordinary systems of human connection.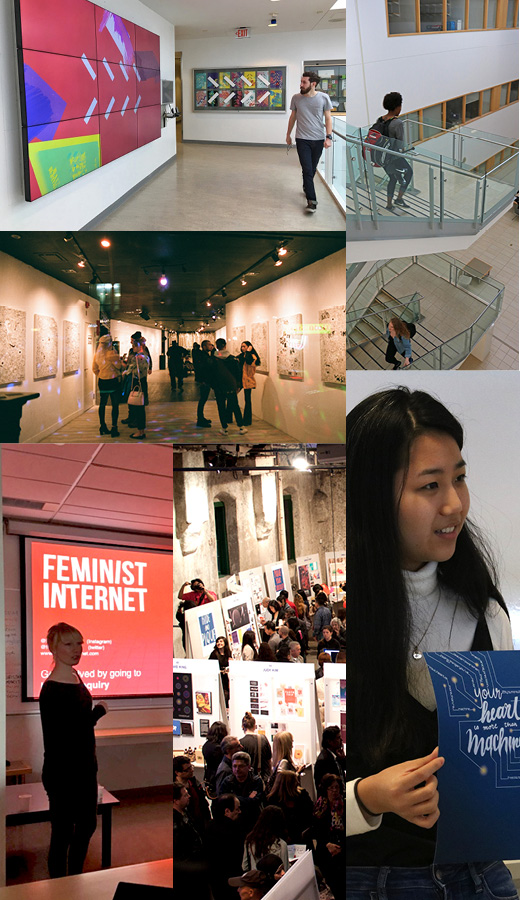 In our global knowledge economy, ideas flow fast and far, creating extraordinarily elaborate systems of human connection. As designers, we facilitate understanding through devising objects, environments and innovative platforms for interaction.
Design at York students actively explore and expand the boundaries of design in managing and communicating complex bodies of information for meaningful human experiences in our increasingly visual world. Grounded in an understanding of the designer's specialized knowledge, methods and skills, students learn to recognize complex problems as being comprised of systems of social, cultural and technological networks.
By identifying points of entry for design intervention, students acquire the agency to define their role as inventor, author, curator, entrepreneur, advocate and social innovator in the rapidly expanding world of design opportunities.
OUR CREATIVE SPACES
Design Fabrication Lab
HIGHLIGHTS
A Brief History
1999
The Department of Design is founded, becoming the first Bachelor of Design degree offered in Ontario. The program is known as the York University Sheridan College Program in Design (YSDN).
2005
Commencing in 2005, the Master of Design (MDes) program at the York University is the first graduate program in design in Ontario. The program is distinguished by its emphasis on design practice and its interdisciplinary approach to creative and appplied research.
2019
The Department of Design launches a new Bachelor of Design DESN, with an emphasis on human-centred design and systems thinking as a pathway entering professional design practice.
FACULTY AND STAFF
People of Design
Associate Professor
Jan Hadlaw
Contract Faculty
Albert Ng
Associate Professor
Angela Norwood
Associate Professor
David Gelb
Contract Faculty
Robert Gill
Associate Professor
David Cabianca
Associate Professor
Sandra Gabriele
Associate Professor
Paul Sych
Assistant Professor
Gabriel Schaffzin
RGD Membership
Complimentary student RGD (Registered Graphic Designers) membership that represents design practitioners, including firm owners, freelancers, managers, educators and students.
Design Software
Student licenses for Adobe Creative Cloud 2020 with 20+ desktop and mobile apps and services for photography, design, video, web, UX and more
Professional Introductions
Industry nights with visits from leading design firms, studios and start-ups that actively recruit from our students and alumni for design placements and full-time postions
Studios and Technology
Our studios are state-of-the-art and with 24-7 access and a dedicated Fabrication Lab and Photo Studio. Design at York offers the most technology-enriched design education facilities in Canada.
Be Part of A Community
Getting Involved