Expand the boundaries of design, create extraordinary systems of human connection.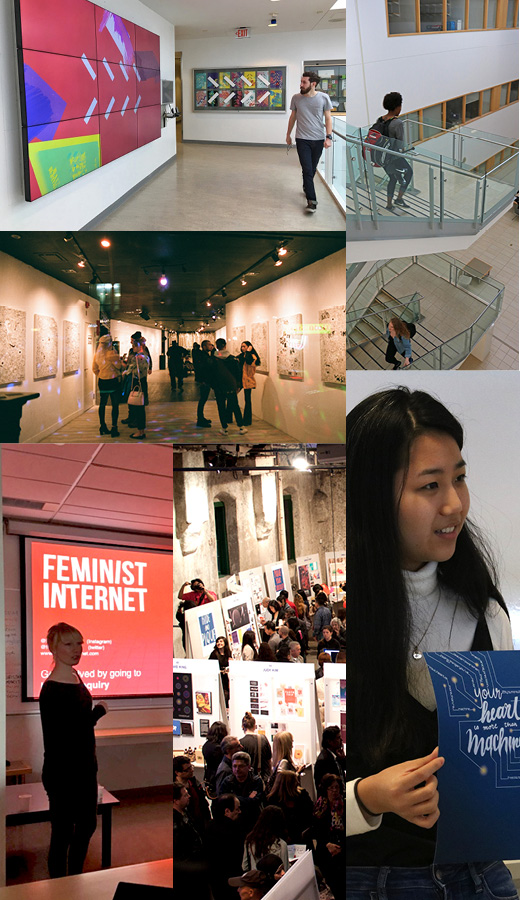 ABOUT
Design
In our global knowledge economy, ideas flow fast and far, creating extraordinarily elaborate systems of human connection. As designers, we facilitate understanding through devising objects, environments and innovative platforms for interaction.
Design at York students actively explore and expand the boundaries of design in managing and communicating complex bodies of information for meaningful human experiences in our increasingly visual world. Grounded in an understanding of the designer's specialized knowledge, methods and skills, students learn to recognize complex problems as being comprised of systems of social, cultural and technological networks.
By identifying points of entry for design intervention, students acquire the agency to define their role as inventor, author, curator, entrepreneur, advocate and social innovator in the rapidly expanding world of design opportunities.
<!––[wpv-post-body view_template="design-about-a-brief-history"]––>
FACULTY AND STAFF
People of Design
Administrative Staff
Loris Dotto
Assistant Professor
Gabriel Schaffzin
Professor Emeritus
Andrew M. Tomcik
Professor Emeritus
David Scadding
Professor Emeritus
Don Newgren
Professor Emeritus
Wojtek E. Janczak
Administrative Staff
Rich Miziolek
Administrative Staff
Antonia Schneider
Administrative Staff
Judy Matadial
Administrative Staff
Andrea DiFlorio Sgro
Administrative Staff
Barb Batke
Administrative Staff
Melesa Beharry
Associate Professor
Paul Sych
Associate Professor
Sandra Gabriele
Associate Professor
David Cabianca
Contract Faculty
Robert Gill
Associate Professor
David Gelb
Associate Professor
Angela Norwood
Contract Faculty
Albert Ng
Assistant Professor
Shital Desai
Associate Professor
Jan Hadlaw
RGD Membership
Complimentary student RGD (Registered Graphic Designers) membership that represents design practitioners, including firm owners, freelancers, managers, educators and students.
Design Software
Student licenses for Adobe Creative Cloud 2020 with 20+ desktop and mobile apps and services for photography, design, video, web, UX and more
Professional Introductions
Industry nights with visits from leading design firms, studios and start-ups that actively recruit from our students and alumni for design placements and full-time postions
Studios and Technology
Our studios are state-of-the-art and with 24-7 access and a dedicated Fabrication Lab and Photo Studio. Design at York offers the most technology-enriched design education facilities in Canada.
Be Part of A Community
Getting Involved