Design Program Video Description Transcript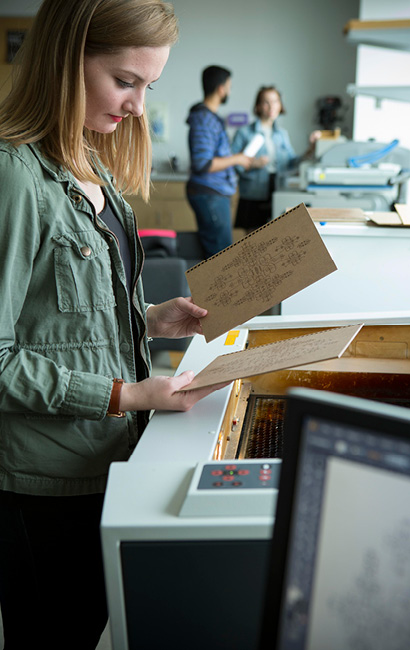 For over two decades, York University's Bachelor of Design Honours degree (DESN) has set the bar for learning the discipline of design within a university environment. Recognized throughout North America for our standards of academic, research and professional excellence, Design at York offers students a rich, multi-disciplinary experience and pathways to careers in an exciting, ever-evolving field.
At the heart of DESN is the studio environment, where students gain essential professional and technical skills and a strong foundation in design methods and conceptual processes. Students have access to state-of-the-art resources and tools and work placement opportunities via our strong industry connections. DESN alumni often go on to contribute to top design firms and agencies worldwide, enroll in national and international graduate study programs, and succeed as entrepreneurs.
HIGHLIGHTS
Top 6 reasons to apply
Stellar reputation
Our award-winning students are sought out by companies including Facebook, Google, Wikimedia, IBM and Shopify
Personalized attention
Smaller class sizes with intimate studio learning environments
Customizable pathways
Information Design, Interaction Design, and Visual Communication, enhanced by courses in design history, theory, and criticism
Professional orientation
Applied, studio-based learning that prepares graduates for professional design practice
Strong industry connections
Recruitment visits with leading design firms
Valuable work experiences
Placement in professional design settings
WHAT DOES IT TAKE?
Admission
ASSEMBLING YOUR PORTFOLIO
Your portfolio should comprise 10 to 12 samples of original work that demonstrate a wide range of ideas and competency with different media and tools. At least one piece in your portfolio should present word(s) and image(s) that communicate a message.
In addition to the types of work listed below, 8-10 images from a sketchbook or concept/idea book are required.
Your portfolio should contain your best work from at least 3 of the areas below (1-6 are highly recommended for inclusion).
WHAT TO INCLUDE IN YOUR PORTFOLIO
1. Two-dimensional design work e.g. designs for posters, logos, letterheads, book/magazine covers and interior page spreads.
2. Typography e.g. poetry or words using an expressive font or page layout, typeface designs, expressive lettering, projects with text settings designed for clear communication. Drawings and experiments with typographic form.
3. Interactive media e.g. web site design and/or other interactive work.
4. Motion graphics e.g. video or animation using images and typography. Short pieces with a strong message are preferred.
5. Drawing & Illustration e.g. direct observational drawings are preferred (not drawn from photographs). Imaginative drawing is also welcome. It is good to demonstrate the use of a wide variety of media (pen & ink, charcoal, pastel, coloured pencil, marker pen, collage, digital drawings).
6. Photography e.g. B&W prints, colour prints, hand-tinted prints, digitally manipulated.
7. Painting e.g. representative and/or non-representative in oil, acrylic, watercolour, gouache.
8. 3D Design/Sculpture e.g. scale models from plan drawings, craft and fibre experiments.
The sketchbook or concept/idea book is a very important component of the portfolio. It should contain a variety of studies and examples of your media/tools experiments and demonstrate an exploration of visual and annotated ideas, comments and critiques. It will represent a variety of things that interest you and the ongoing development of ideas. Include 8-10 pages from your sketchbook as a single file.